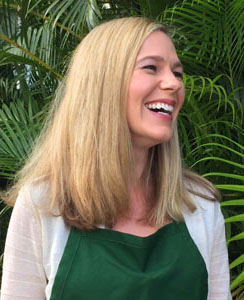 We have a new Community Outreach Team Leader and we're thrilled to tell you about her. What makes this announcement so exciting is that Sabra Rebo is a Registered Dietitian (RD). This is the first time in our 39-year history that we count an RD among our ranks.
Sabra was graduated from Kansas State University with a Bachelor of Science degree in dietetics. She moved to Hawaii eight years ago and comes to us with great experience at multi-national Sodexo Inc., which is a food services and facilities management company, and Straub Clinic and Hospital, where she also helped with community outreach. She has been a vegetarian for the past 12 years.
She will lead our continuing cooking classes and guest lectures through partnerships with a wide variety of health and environmental experts. She envisions adding nutritional seminars and events, providing consultations, and helping to produce educational materials on various nutritional topics—among many other ideas we've been discussing.
We're so fortunate to have Sabra on our team. She will take our community outreach to new heights as we look forward to a long-lasting relationship.
When you see her about the stores, please make Sabra feel welcome as the newest member of the Love Life! Community Outreach team at Down to Earth.