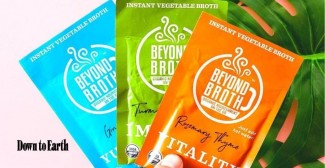 Imagine getting a huge veggie hit without all the chopping! It's possible with Beyond Broth. 
We're talking instant vegetable broth that's soy & gluten-free, has no added sugars, is always vegan and made from all-natural organic ingredients.
Eating more plant-based meals may help boost your immune system by giving your body the nourishment it needs to fight against viruses and infections.
Beyond Broth is a snap to make, you get a bunch of veggies in a super convenient packet. 
It's currently exclusive to Down to Earth in Hawaii so stop by soon and check it out. 
Ask a cashier at any store for your free sample packet of Beyond Broth (one sample per customer, while supplies last).
You can find these easy packets + a ton more health boosting, immune strengthening, and all-around good-for-you products at our stores. Skip the line, order your DTE groceries at downtoearth.org/shop.