Thursday, February 13, 2020 - 6:00pm
Kakaako Free Talk: Fungi - The Final Frontier & Mushrooms of Hawaii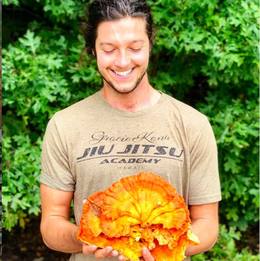 Free lecture, no registration required. Lecture will be held at Down to Earth Kakaako's dining room.
Fungi: The Final Frontier. Did you know scientist have only characterized 7% of the world's fungi species. That means 93% of the total species of the fungi kingdom have yet to be discovered! The statistics in Hawaii could be even less. As one of the most geologically diverse and isolated landmasses in the world, the unique ecology of plants, birds, insects, and amphibians in the Hawaiian Islands have attracted scientist from all over the world resulting in thousands of new discoveries. However, the fungal realm has not received nearly the same attention. With many novel medicinal or therapeutic chemical compounds contained within fungi and mushrooms, what mysteries and potential breakthroughs have we been overlooking as they lie humbly at our feet? Join us as we dig deep into the Mushrooms of Hawai'i and the medicinal potential of the fungi kingdom!
Benjamin Lillibridge is the founder (& funguy) of Big Island based Mālama Mushrooms, a business focused on bringing superfood mushroom extracts to the masses for immunity, brain health, and energy support! As a part of Mālama, Benjamin is working on characterizing and preserving the native mushrooms of Hawaii, as well as empowering local farmers to cultivate these wonderful fruits!
When
Thursday, February 13, 2020 - 6:00pm
Where
Down to Earth Kakaako Dining Room
500 Keawe Street