Raw Vegan Strawberry Parfait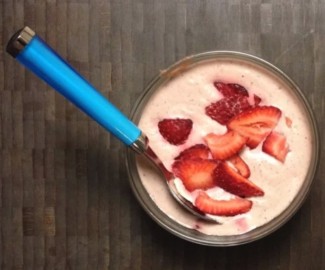 This beautiful dessert features some of summer's best fruits: fresh stawberries!

Ingredients
Filling
1 cup cashews, soaked 1 hour and drained
½ cup strawberries
Pinch salt
¼ cup coconut oil
Juice of 1 lime
1 teaspoon vanilla powder
½ cup agave or 4 medjool dates
1-5 Tablespoons water
Parfait
1 cup of finely chopped strawberries divided
1 banana, sliced thinly
¼ cup shredded coconut, divided
Instructions
Blend Filling ingredients in a food processor until smooth and creamy.
To make the Parfait: Place a layer strawberries, banana, and coconut on the bottom of a glass cup.
Place a ¼ cup of the Filling on top of fruit layer.
Continue this process, allowing for final topping of strawberries, banana, and coconut mixture.
Place in refrigerator to let set and chill for 1 hour. Serve and enjoy!