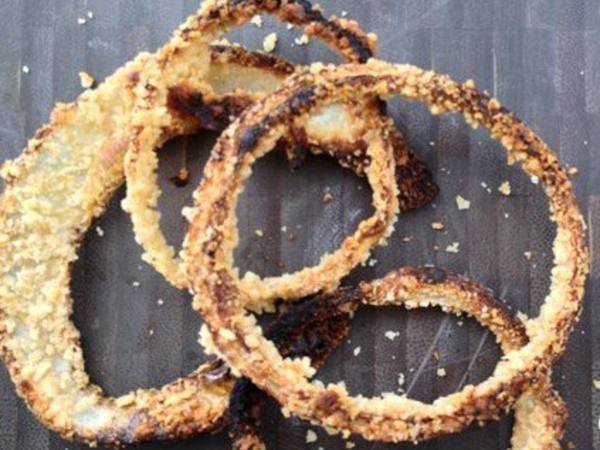 Baked Onion Rings
Onion rings' irresistible salty crunchiness makes them a popular snack that we just can't get enough of! Baking your onion rings instead of deep frying still gives you the same satisfying flavor and texture without all the excess oil. Add in your favorite seasonings and dips and you can make countless versions of this yummy snack
Updated: Mon, 05/13/2019 - 8:51pm
Ingredients
Onions
2 large yellow or sweet onions
Flour Mixture
1½ cups all-purpose flour or gluten-free all-purpose flour
½ cup cornmeal
¼ cup nutritional yeast
1-2 Tablespoons Italian seasonings or mixed seasonings of choice (optional)
1-2 teaspoons black pepper
Liquid Mixture
1 cup non-dairy milk
1 teaspoon apple cider vinegar or white vinegar
Coating Mixture
1 cup panko bread crumbs or 1 cup finely ground brown rice crackers
1-2 teaspoons sea salt
2 Tablespoons extra virgin olive oil
Cooking spray
Extra virgin olive oil cooking spray
Instructions
Preheat oven to 425°. Line 2 baking sheets with parchment paper.
Slice onion into rings ¼" - ½" thick. Separate the rings and place in a large bowl.
Mix together all Flour Mixture in a small bowl. Whisk together all Liquid Mixture in a second bowl. Mix together all Coating Mixture in a third bowl.
Line up onion rings, Flour Mixture, Liquid Mixture, a small plate, Coating Mixture and baking sheets in an assembly line - this will help expedite the process.
To prevent clumping, use one hand for the dry mixtures and the other hand for the wet mixtures. Using your "dry hand", dip onion ring into Flour Mixture and shake off excess. Using your "wet hand", dip into Liquid Mixture and shake off excess and place on small plate. Using your "dry hand" again, sprinkle a handful of crumbs over the onion ring, to coat completely. Shake off excess and transfer to baking sheet. Repeat with remaining onion rings keeping them evenly spaced and moving onto the 2nd baking sheet when needed.
Once you've completed coating all the onion rings, spray them lightly with cooking spray. Bake onion rings for 7-12 minutes or until they begin to brown. Remove from oven and flip rings. Return to oven and bake for another 7-12 minutes or until golden.
Season with salt and pepper. Serve immediately with your favorite dipping sauce. Enjoy!