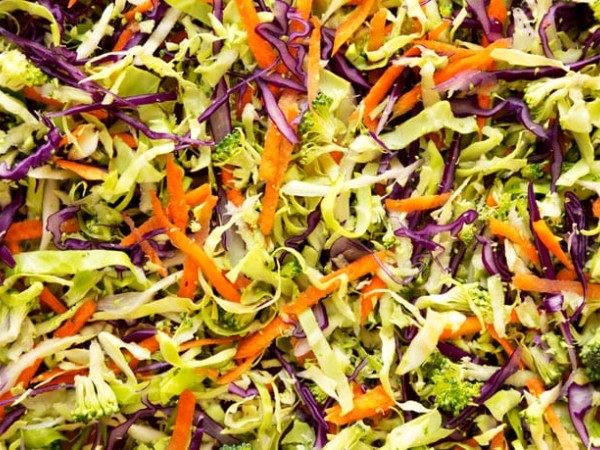 This salad takes advantage of a rainbow of colorful vegetables for a gorgeous, simple salad.
Ingredients
3 cups very finely shredded broccoli
2 cups shredded cabbage
2 cups shredded carrots
2 cups shredded kale
1 red or yellow pepper, thinly sliced
Lemon-Sesame Dressing
3 Tablespoons soy sauce or tamari
3 Tablespoons fresh lemon juice
3 Tablespoons coconut vinegar or other mild vinegar
2 Tablespoons olive oil
2 Tablespoons toasted sesame oil
1 Tablespoon honey
1-2 Tablespoons lemon zest
1-2 teaspoons fresh grated ginger
Black pepper to t
Instructions
Add all vegetables to a very large bowl.
Whisk together all dressing ingredients in a small bowl. Let stand at least 10 minutes for flavors to meld.
Pour dressing over vegetables and toss to combine. Serve immediately! Enjoy!