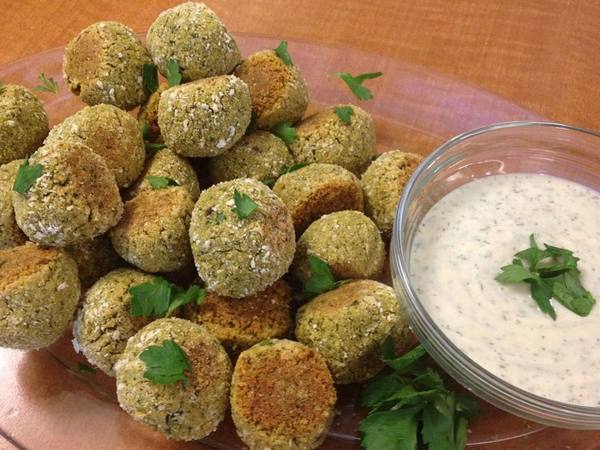 Chickpea Balls w/ Vegan Dill Sauce
Recipe for Chickpea Balls with Vegan Dill Sauce from Down to Earth Organic and Natural.
Updated: Mon, 05/13/2019 - 9:13pm
Ingredients
Chickpea Balls
6 Tablespoons safflower oil, divided
¼ cup diced red onion
¼ cup chopped green onion
3 garlic cloves, diced
½ teaspoon coriander
1 teaspoon smoked paprika
1 (29-ounce) can chickpeas (garbanzo beans)
¼ cup nutritional yeast
2 Tablespoon tahini
Juice of 1 lime
3 Tablespoons olive oil
1 cup chopped fresh parsley
Pinch cayenne
Salt and pepper to taste
¾ cup plain bread crumbs
Coating
¼ cup corn meal
¼ cup Panko bread crumbs
⅛ cup nutritional yeast
1 teaspoon smoked paprika
Salt and pepper to taste
Yogurt Sauce
2 cups vegan plain yogurt
3 garlic cloves
1 teaspoon olive oil
Juice of 2 limes
½ teaspoon cayenne
½ cup fresh dill
Salt and pepper to taste
Instructions
Heat oven to 350º. Grease a baking sheet with 3 Tablespoons oil. Set aside.
Heat skillet to medium and coat with remaining 3 Tablespoons oil.
Add red onion, green onion, garlic, coriander, 1 teaspoon smoked paprika, and sauté until onions are translucent – about 3-5 minutes.
Remove from heat. Place sauté mixture, chickpeas, ¼ cup nutritional yeast, tahini, lime juice, olive oil, parsley, cayenne, salt, and pepper into a food processor. Process until well combined.
Remove mixture from processor and transfer to a large bowl and add bread crumbs.
In a separate mixing bowl combine Coating ingredients.
Using your hands roll 1" round balls. Roll in coating and set on a prepared baking sheet. Continue until mixture is used up.
Bake for 20 minutes, turn and cook for another 20 minutes. Remove from oven and let cool.
Place all Yogurt Sauce ingredients in a food processor. Process until well blended. Serve with chickpea balls and enjoy!