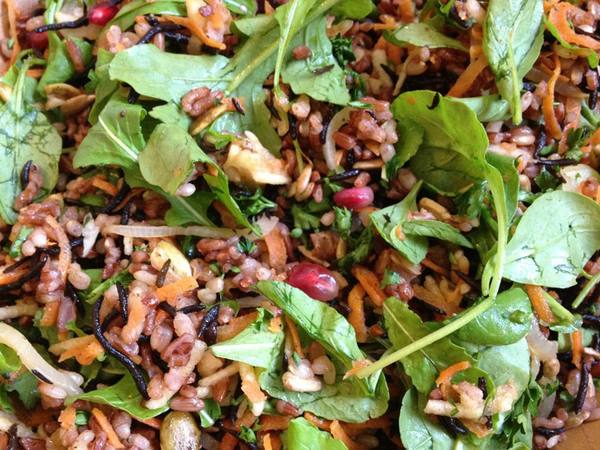 Citrus Brown Rice Salad
Citrus Brown Rice Salad recipe from Down to Earth Organic and Natural.
Updated: Mon, 05/13/2019 - 8:58pm
Ingredients
1 cup brown rice
2 cups water
6 cups arugula leaves
½ cup thinly sliced red onion
1 ½ cups tomato, cut in half
½ cucumber, cut into half moons
1 avocado, cubed
Citrus-Thai Basil Vinaigrette
¾ cup orange juice
¼ cup lime juice
½ cup fresh Thai basil leaves (substitute regular basil if needed)
1 teaspoon freshly ground black pepper
1 Tablespoon local honey
½ cup extra virgin olive oil
Instructions
Cook rice per directions or rinse 2 cups rice and place in a pot with 4 cups water. Bring to a boil. Cover and reduce heat to low.
Let rice cool and refrigerate.
To make Citrus-Thai Basil Vinaigrette combine all ingredients in blender and blend for 1 minute.
Toss together brown rice, arugula, red onion, tomato, cucumber,   avocado, and Citrus-Thai Basil Vinaigrette.
Stir to coat rice evenly with vinaigrette and then serve. Enjoy!