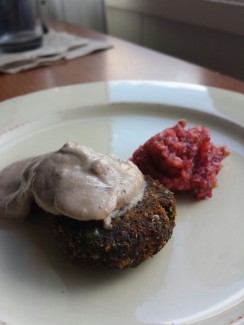 This gravy is best made in a High powered blender like a Vitamix. You can blend on high for 5 minutes and gravy will be nice and warm.
Ingredients
2 cups chopped mushrooms

1 teaspoon garlic powder

½ teaspoon onion powder

½ cup almonds, soaked 1hour

½ teaspoon Braggs Aminos

½ teaspoon miso paste

1 ½- 2 cups water

Salt and pepper to taste

1 cup sliced mushrooms

Special Materials: Blender
Instructions
Place all ingredients except sliced mushrooms into a blender.
Add water a little at a time until desired consistency.
Place gravy in a bowl and add sliced mushrooms. Stir and enjoy!