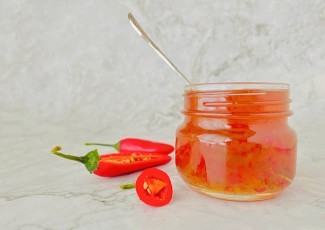 This spicy jam is perfect for Summer. Papayas are high in natural pectin, and therefore need no additives. Watch us prepare this recipe on KHON's Living808!
Ingredients
2 pounds papayas, peeled, cored, and pureed
1 pound pineapple, pureed
1 ½ cups raw cane sugar
½ teaspoon cinnamon
Juice of 2 limes
5 hot peppers, finely minced (jalapeno, serrano, Hawaiian chili)
1 teaspoon cayenne pepper
Instructions
Combine pureed papaya, pineapple, sugar, cinnamon, lime, and hot pepper in saucepan.
Bring to a boil over med-high heat, stirring often.
Reduce heat and simmer, still stirring, until puree thickens and holds its shape on a spoon.
Add cayenne pepper and mix well. Taste, and add more if needed to reach desired level of spice.
Let cool and store in mason jar for up to 1 week. Serve on savory biscuits or avocado toast, enjoy!