Summer Rolls with Spicy Almond Sauce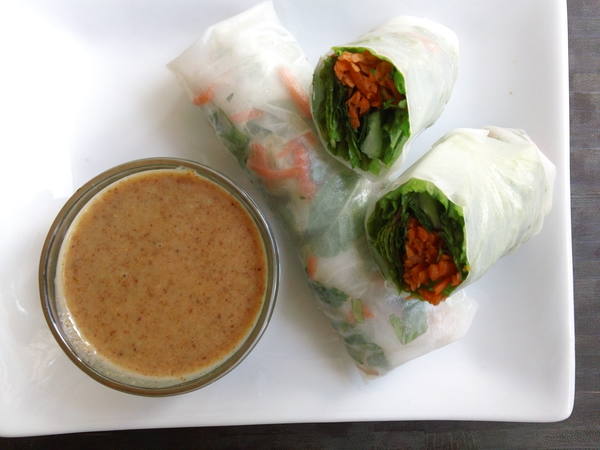 A simple wrap made with wholesome vegetables and a rich almond sauce.
Yield
1 cup Almond Sauce; 10-15 Summer Rolls
Ingredients
Spicy Almond Sauce
½ cup natural almond butter
¼ cup fresh lime juice
1-2 Tablespoons agave
2 Tablespoons soy sauce or tamari
1 Tablespoon chili sauce (or ½ teaspoon chili flakes)
Water, as needed
Summer Rolls
1 head lettuce, washed and dried
2 cups shredded carrots
1 cucumber, seeded and sliced into thin strips
Fresh cilantro sprigs
Fresh mint sprigs
1 (12-ounce) package rice paper wrappers
Instructions
To prepare the Almond Sauce: Whisk together almond butter, lime juice, agave, soy sauce, and hot sauce. Add water to make a thin, smooth sauce. Taste, and adjust salty, sweet, and sour flavors to taste. Set aside.
To make the Summer Rolls: set up a working surface (such as a cutting board) on table or countertop. Arrange all vegetables in small bowls. Fill a large bowl with very hot water.
Dip each rice paper into hot water for 10 seconds then lay onto work surface. Layer lettuce leaves, carrots, cucumber and herbs as desired. Fold in edges and roll tightly (it might take some practice!).
Roll as many wraps as you want to eat and save any remaining wrappers in a resealable bag.
Serve wraps with Spicy Almond Sauce and enjoy immediately!