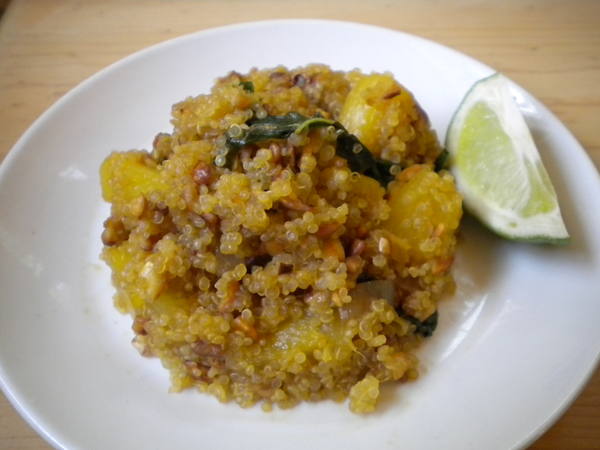 Pineapple Ginger Quinoa
Sweet-tart pineapple pairs with spicy and warm ginger for a delicious quinoa vegetable entrée. This recipe is adapted from Veganomion.
Updated: Tue, 04/03/2018 - 8:23am
Ingredients
1 cup pineapple juice
2 cups water
1½ cups quinoa
1" piece ginger, chopped + 1" piece ginger, grated
¾ cup raw cashew pieces
3 Tablespoons peanut oil
1 cup sliced onion
2 cloves garlic, minced
1-2 chile peppers, diced
½ cup chopped fresh basil
1½ cups chopped fresh pineapple
¼ cup water
3 Tablespoons soy sauce
1 lime, for topping
Instructions
Bring pineapple juice and 2 cups water to a boil in a saucepan. Add quinoa and chopped ginger. Cook for 15 minutes, then fluff with a fork. Remove large ginger pieces.
Toast cashews in a dry pan until they brown, about 10-15 minutes. Remove from pan and add to cooked quinoa. Stir to combine.
Heat peanut oil in a large skillet. Add onions and garlic, cook for 10 minutes. Add chile and grated ginger and cook for a few minutes more.
Add basil and pineapple, cook for 5 minutes. Stir in ¼ cup water and soy sauce and simmer for 1 minute. Add quinoa mixture and stir well.
Squeeze fresh lime over top and enjoy!