Kale with Tahini and Yogurt Dressing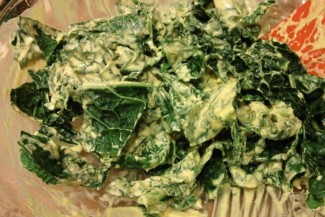 Make this easy dressing ahead of time and have it ready for all your salads.
Yield
About 1 cup dressing, or 4 small servings
Ingredients
1 bunch kale, stems removed and chopped
2 Tablespoons extra virgin olive oil
½ teaspoon each ground cumin, turmeric, coriander
¼ teaspoon cayenne pepper
½ cup tahini
½ cup plain or Greek yogurt
3 Tablespoons fresh lemon juice
Pinch sea salt
½ cup warm water
Instructions
Prepare the kale. Steam or blanch slightly by dipping into boiling water. Drain, and set aside to let cool.
In a small bowl mix oil, spices, tahini, yogurt, lemon juice, and salt together. Stir until combined. Add water a few Tablespoons at a time to thin to desired consistency.
Pour dressing onto kale and stir gently to combine.
Toss with other raw or cooked vegetables if you like. Dressing can be refrigerated for a few days separate from vegetables. Enjoy!