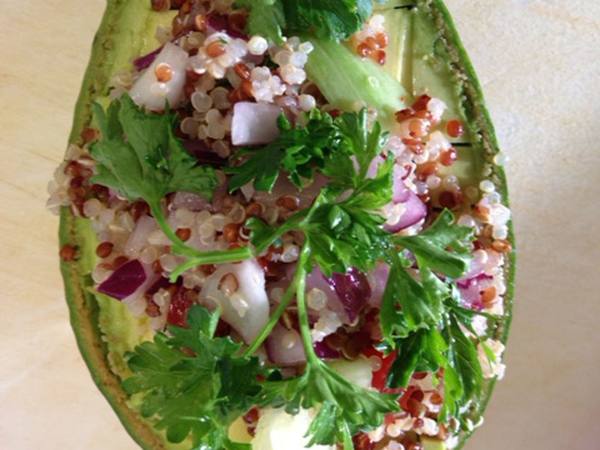 Mini Avocado Salad
Avocado halves serve as fun serving bowls for this super simple and refreshing summer salad. Hold off cutting avocados until ready to serve to prevent them from browning.
Updated: Mon, 05/13/2019 - 9:13pm
Ingredients
1 cup cooked quinoa
½ cup diced red onion
½ cup diced cucumbers
½ cup diced tomatoes
2 Tablespoons chopped fresh cilantro or parsley leaves, divided
½ teaspoon dried cumin
½ teaspoon ancho chile powder
2 Tablespoons extra virgin olive oil
2 Tablespoons fresh squeezed lime juice
Salt and pepper, to taste
3 ripe avocados, halved with pits removed
2-3 Tablespoons thinly sliced green onions
8 lime slices
Instructions
Combine cooked quinoa, onions, cucumbers, tomatoes, 1 Tablespoon fresh cilantro, cumin, chile powder, olive oil, lime juice, salt and pepper in a large bowl. Toss well and set aside.
Using a small paring knife, gently cut a criss-cross (cross-hatch) pattern into the flesh of each avocado half. This will make it easier to eat later.
Spoon quinoa mixture evenly into the middle of each avocado. Garnish with remaining cilantro, green onions and serve with lime slices. Enjoy!