Peach & Blueberry Bellinis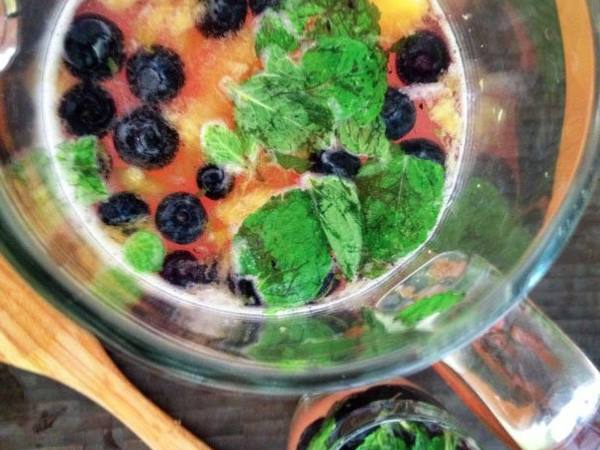 Peach & Blueberry Bellini Recipe from Down to Earth Organic and Natural
Ingredients
2 (10-ounce) package frozen peaches, apricots or nectarines
1- 1½ cups sugar
Pinch salt
½ cup – ¾ cup packed fresh mint leaves
1 (16-ounce) package frozen blueberries
1 liter sparkling water
Instructions
Combine frozen peaches, sugar and salt in a medium saucepan. Bring to a boil, reduce heat and simmer on low.
Gently mash fruit occasionally with a wooden spoon until peaches are very tender – about 40-45 minutes. Strain into a bowl or jar. Leftover peaches can be used in the bellini or in another dish. Cover peach syrup, chill for at least 1 hour. This sweet syrup can be stored for up to 2 weeks.
When ready to serve bellinis: Using a rolling pin or heavy can/jar, beat mint leaves on a clean, dry surface – this will help release the oils and flavors.
Combine mint, blueberries, sparkling water in a large pitcher or punchbowl. Add in peach syrup to taste. Leftover peach syrup can be used to sweeten iced teas and other drinks. Can be refrigerated for 5-7 days. Serve immediately and enjoy!