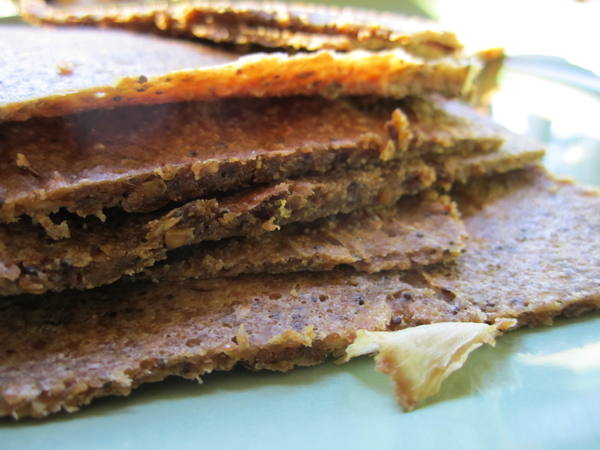 Onion Bread (dehydrated)
This is Matt Amusden's famous raw, dehydrated bread recipe with the personal additions of caraway and poppy seeds. Great in a sandwich, as a raw pizza crust, or any place that an old-fashioned savory bread is used.
Yield:
18 Servings, 18 slices.
Updated: Mon, 05/13/2019 - 8:52pm
Ingredients
2-3 yellow onions, sliced thinly
1 cup flax seeds, ground
1 cup raw sunflower seeds, ground
1 Tablespoon caraway seeds
1 Tablespoon poppy seeds
¼-⅓ cup nama shoyu (raw) or tamari (gluten-free), to taste
⅓ cup cold pressed olive oil, or coconut oil
Instructions
Mix all ingredients in a large bowl or food processor - depending on the texture of bread that you prefer. A food processor will liquefy the onion and make the bread smoother. Mixing by hand with thinly sliced onions with result in a chewier and more textured bread.
Spread the mixture in even layers on 2 teflex sheets or baking trays.
Dehydrate at 140° for 2 hours, then 115° for a further 6 -8 hours. Once the bread is firm enough, flip it over and peel off the teflex sheet. Continue dehyrating for 4-8 hours, until the bread has reached the firmness you prefer. If using a conventional oven, bake at the lowest heat with the door open until firm but still chewy, flipping the bread when it is firm enough to do so.
Once dehydrated cut the bread into pieces – usually 9 squares to a teflex sheet or baking tray.
Serve. Delicious with avocado, tomato and a pinch of salt. The bread will keep for 7-10 days refrigerated and freezes well. Enjoy!