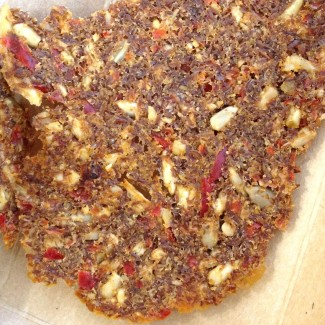 These delicious raw wraps are full of flavor. They can be cooked an additional 5 hours and become a cracker.
Ingredients
1 cup chopped red pepper
½ cup sunflower seeds, divided
1 cup ground flax seeds
½ cup whole flax seeds
1 cup sliced onion
¼ cup nutritional yeast
½ teaspoon red pepper flakes
1 Tablespoon nama shoyu
2 Tablespoons olive oil
1 teaspoon lemon juice
Salt and pepper to taste
2 cups water
Instructions
Place red pepper and ¼ cup of sunflower seeds into a food processor. Process until pureed.
In a large bowl, combine ¼ cup sunflower seeds, ground flax seeds, whole flax seeds, onion, nutritional yeast, red pepper flakes, nama shoyu, olive oil, lemon juice, salt and pepper.
Add red pepper puree and stir mixture until well combined. Let sit for 5 minutes.
Line 2 dehydrator trays with Teflex sheets and divide mixture onto both sheets.
Place in dehydrator at 105° for 5 hours. Flip and remove from Teflex sheet and place in dehydrator for another 5 hours.
When time is up, remove flat breads and quarter them. Fill with your favorite ingredients. Enjoy!