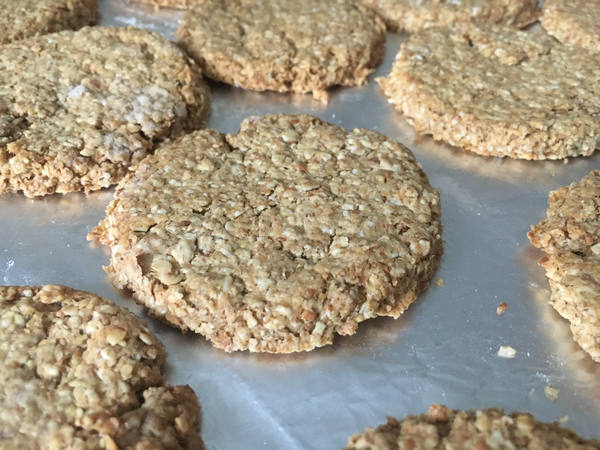 Oatcakes
Simple, filling, and tasty, these oatcakes can be served plain or with butter, honey, jam, fresh fruit, or anything else!
Yield:
Approximately 1-3 Dozen Oatcakes
Updated: Mon, 05/13/2019 - 8:51pm
Ingredients
2 cups rolled oats
1 cup coconut flour or almond flour + more for dusting
¼ - ½ cup brown sugar or coconut sugar
¼ teaspoon ginger powder
1 teaspoon cinnamon
1 teaspoon nutmeg
2 Tablespoons ground flaxseeds
1 Tablespoon chia seeds
¾ cup cold butter or vegan butter, grated or chopped into 1" cubes
1 Tablespoon maple syrup or agave
2 teaspoons vanilla extract
½ cup hot water
Instructions
Preheat oven to 350°. Line 1-2 baking sheets with parchment paper – depending on how large you want to cut your oatcakes.
Combine the rolled oats, flour, sugar, ginger, cinnamon, nutmeg, and seeds in a food processor or a large mixing bowl. Process/mix together until combined.
Add/stir in grated butter, syrup, and vanilla extract. If you are using a food processor, pour in hot water while the machine is running. If you are mixing by hand, stir in water slowly. Mix until a thick, firm dough forms.
Dust a clean, dry surface with extra flour. Turn out dough onto floured surface and shape into a ball. Divide in half. Using a rolling pin, roll 1 ball of dough until it's about ½" thick. Using a cookie cutter, drinking glasses, or a jar, cut out circles of dough anywhere between 2"-5" wide. Place them evenly onto the baking sheet(s). Repeat with remaining ball of dough.
Bake for 15-25 minutes. With a shorter baking time, oatcakes will be softer and with a longer baking time they will crisp up slightly; remove oatcakes when they have reached your desired texture.
Let cool for 1-2 minutes and then transfer to a cooling rack to cool completely. Oatcakes can be stored at room temperature in an air-tight container for up to 2 weeks. Serve with your favorite jam, butter, honey, or any other spread. Enjoy!