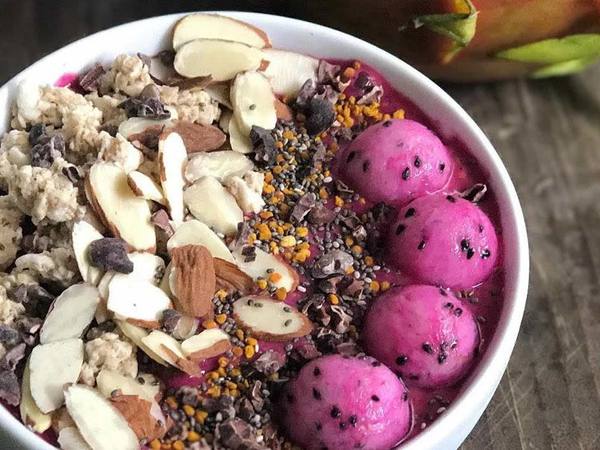 Pitaya Bowl
This delicious smoothie bowl is both refreshing and filling.
Updated: Mon, 05/13/2019 - 9:21pm
Ingredients
1 banana
1 pack frozen pitaya (3.5 oz)
½ cup frozen fruit
1 Tablespoon bee pollen
1 Tablespoon maca powder
½ cup coconut water
Suggested Toppings
Down to Earth french vanilla granola
Fresh pitaya
Toasted coconut flakes
Chia seeds
Cacao nibs
Instructions
Peel and cut a large banana. Put the cut banana in a freezer-safe bag & freeze for at least 2 hours. Frozen bananas can be stored in the freezer for up to 1 month.

Combine frozen banana, frozen pitaya, and frozen fruit in blender and blend until chunky.

Add bee pollen, maca powder, and coconut water to the pitaya mixture and blend until combined. Mixture should be thick, like a sorbet.

Transfer mixture to serving bowl, top with preferred toppings, and enjoy!