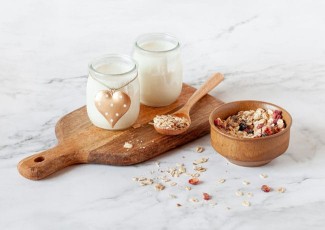 Grab a bowl of coconut milk yogurt topped with this superfoods muesli and you'll feel full and satisfied until lunch.
Ingredients
4 cups rolled oats
1 cup raw buckwheat groats (not toasted buckwheat or "kasha")
1 cup flax meal
1 cup hemp seeds
1 cup chia seeds
½ cup pumpkin seeds
½ cup chopped almonds
½ cup chopped walnuts
1 cup goji berries
1 cup dried mulberries
2 Tablespoons cinnamon
Instructions
Combine all ingredients in a large bowl.
Separate into mason jars for storage.
Serve cold or hot, mixed with nut milk or non-dairy yogurt. Enjoy!