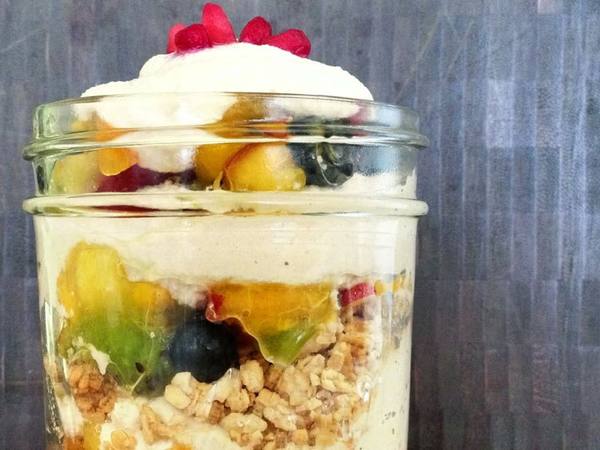 Sweet Summer Parfait
This easy breezy summer parfait is a snap to make and shines with seasonal stone fruit. Instead of making the cashew cream, you can also use whipped cream or ice cream!
Updated: Mon, 05/13/2019 - 8:51pm
Ingredients
Cashew Cream
2 cups cashews, soaked for 1 hours – drained and rinsed
¼ cup non-dairy milk of choice + more if needed
1-2 teaspoons vanilla extract + more if desired
2-3 Tablespoons maple syrup or agave + more if desired
Parfait
2-3 cups granola of choice
3-4 cups diced fresh mixed fruit
Pomegranate seeds (optional)
Citrus zest (optional)
Instructions
To prepare Cashew Cream: Combine all ingredients in a blender. Start blender at a low setting and gradually increase speed until mixture is smooth and creamy. This could take several minutes depending on your blender strength – if blender is unable to mix, add in more non-dairy milk a few Tablespoons at a time. Scrape down the sides as needed. Taste mixture and blend in more vanilla or sweetener if desired. Cashew cream can be ahead of time and stored in the refrigerator for up to a week.
When ready to assemble Parfaits, spoon a layer of granola on the bottom of each serving bowl followed by a layer of fruit and then cream. Smooth out cream and then repeat. Sprinkle pomegranate seeds and citrus zest over each serving. Parfaits can be stored in the refrigerator for 2-3 days. Serve immediately and enjoy!