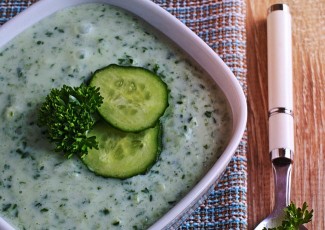 Cucumbers are a classic detoxing ingredient. It's naturally hydrating and akalizing properties are great for your skin, hair, and kidneys.
Ingredients
3 cucumbers, peeled, seeded and roughly chopped
1 pear, cored and quartered
¼ cup fresh lemon juice
1 Tablespoon apple cider vinegar
Salt and pepper to taste
1 Tablespoon chili oil (optional)
¼ cup fresh mint leaves or basil leaves
¼ cup diced green onions
1 avocado, seeded
¼ - ½ cup water (optional)
1 cucumber, diced
Hemp seeds (optional)
Olive oil (optional)
Instructions
Combine chopped cucumbers, pears, lemon juice, apple cider vinegar, salt, pepper, chili oil, fresh herbs, and green onions in a blender. Scoop out the flesh of the avocado and add to the blender as well.
Blend mixture until smooth. Add water if needed in order to achieve a creamy consistency.
Pour soup into a large bowl, cover, and let chill in refrigerator for at least 30 minutes up to overnight. When ready to serve, pour soup into 4 serving bowls. Garnish soups with diced cucumbers, a sprinkle of hemp seeds and a drizzle of olive oil. Enjoy!