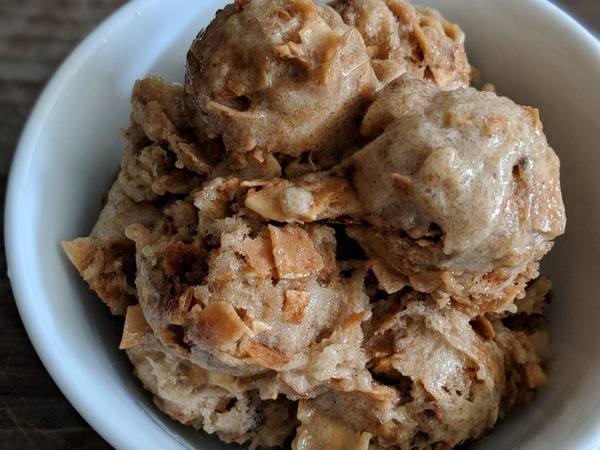 Maple Nice Cream
"Nice cream" is ice cream made from frozen bananas! Adding coconut bacon to this sweet maple nice cream makes an interesting flavor combination.
Updated: Mon, 05/13/2019 - 9:21pm
Ingredients
4-6 bananas
¼ cup maple syrup
2 Tablespoons maple cream
Paste from 1 vanilla bean pod
3 cups coconut bacon
Instructions
Peel bananas. Slice into about ½" rounds. Place in an airtight container and freeze at least overnight.
Break up frozen bananas into your food processor and process until chunky.
Add maple syrup and maple cream. Using a small knife, cut vanilla bean pod down the center. Spread edges out and use knife to scrape out paste. Add to nice cream and blend until smooth and creamy.
Transfer nice cream to an airtight container. Stir in coconut bacon.
Store nice cream in the freezer for up to two weeks. Serve cold and enjoy!