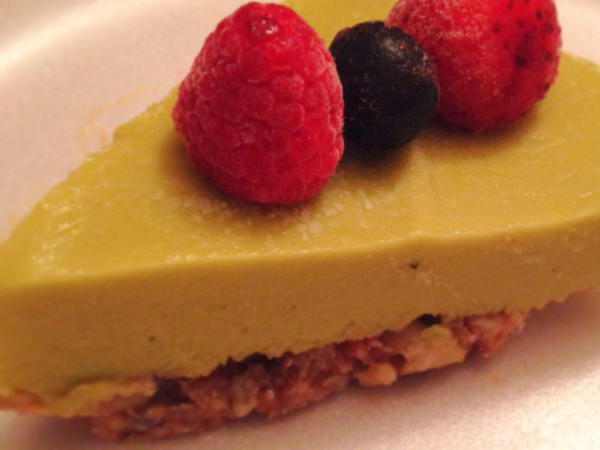 This refreshing dessert features Filipino limes, or calamansi, for a twist on a classic key lime pie. Adapted from the Blogilates lifestyle blog.
Ingredients
Crust
2 cups raw walnuts
6 medjool dates
Pie Filling
6-8 large calamansi limes
2 large avocados
4 tablespoons maple syrup or agave
1 teaspoon vanilla powder
Optional for Pie Filling
1 tablespoon tapioca starch
zest 1-2 calamansi limes
Toppings
1 cup macadamia nuts
1 package frozen or fresh berries
Instructions
Prepare Crust: Soak walnuts and dates in a small bowl of lukewarm water for at least one hour.
Put walnuts and dates into a food processor and pulse until combined.
Empty mixture into a 12-inch pie pan.
Press mixture evenly in the pie pan using a spatula or your hands.
Prepare Pie Filling: Slice calamansi in half and squeeze juice into a small bowl, using a fine strainer to collect calamansi pulp and seeds.
Place calamansi juice, avocado, maple syrup, vanilla, tapioca starch(if using) and calamansi zest (if using) into blender and blend until smooth and creamy.
Pour avocado mixture into the pan.
Use a spatula to spread filling evenly in the pan.
Gently tap the pan to even out the avocado mixture.
Place pan in freezer to solidify for at least one hour.
Prepare Toppings: Soak macadamia nuts in a small bowl of lukewarm water for at least one hour.
Place macadamia nuts into a food processor and pulse until coarsely ground.
Sprinkle pie with ground macadamia nuts and berries before serving. Enjoy!