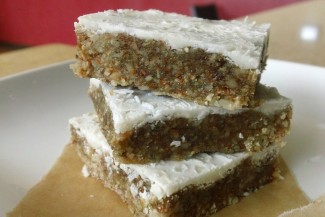 These sweet and tangy raw snack bars are nutritious and filling treats!
Ingredients
1½ cups almonds
½ cup pumpkin seeds
Pinch sea salt
1 cup pitted Medjool dates
2-3 Tablespoons fresh lemon juice
1 teaspoon vanilla powder (or vanilla extract)
Zest of 1 lemon
1 cup coconut butter, softened
Shredded, unsweetened coconut for garnish
Instructions
Pulse almonds, pumpkin seeds and salt in food processor until finely ground. Add dates, lemon juice, vanilla, and half the lemon zest. Pulse until mixture is cohesive and sticky.
Press almond mixture evenly into an 8x8 baking pan.
In a small bowl, mix together coconut butter and remaining lemon zest until smooth (if mixture is too thick to stir, warm slightly over a pot of simmering water).
Spread coconut butter mixture onto crust and smooth the top. Let chill for one hour to set, then cut into squares. Enjoy!