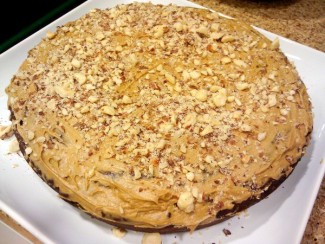 Use this delicious frosting on our Gingerbread Cake or any dessert that needs a tasty frosting!

Yield
¾ Cup (Can frost an 8" cake)
Ingredients
¼ cup softened vegan margarine
1-2 Tablespoons non-dairy milk (preferably soy or almond)
1 Tablespoon molasses
1 teaspoon cinnamon + more if desired
2 cups powdered sugar
¼ cup ground toasted pecans (optional)
Instructions
In a large bowl, whip vegan margarine, milk, molasses and cinnamon until fluffy.
Sift in powdered sugar in increments, whisking until well blended.
Spread onto cooled dessert. Sprinkle with toasted nuts and more cinnamon if desired. Enjoy!