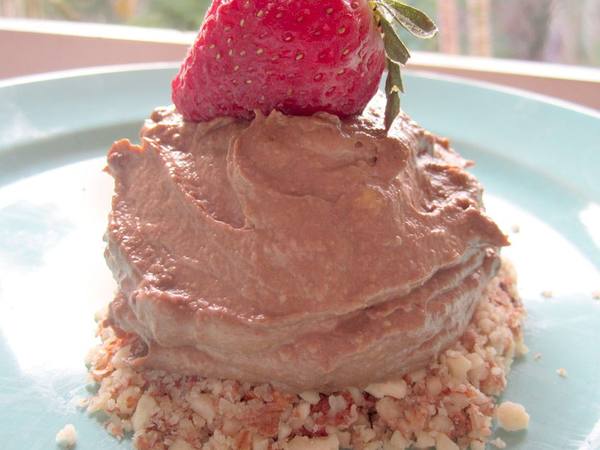 Sugar-Free Chocolate Mousse Pie
A super-decadent, totally sugar-free, rich chocolate mousse. The crust itself is also a perfect base for other kinds of raw desserts.
Updated: Mon, 05/13/2019 - 8:51pm
Ingredients
Crust
1 cup raw almonds
Pinch of stevia + more to taste
2 Tablespoons lime juice and zest (optional)
Coconut oil (optional)
Chocolate Mousse
3 avocados, peeled and pitted
3 Tablespoon raw cacao powder
1 teaspoon vanilla extract (optional)
1 teaspoon cinnamon (optional)
Pinch of stevia + more to taste
Pinch of salt
½ cup berries, chopped if necessary (optional)
Instructions
To make the Crust: Combine almonds, stevia and lime juice in a food processor and pulse until you get a crumbly mixture. Texture should be fairly rough. Add coconut oil a couple teaspoons at a time in food processor if mixture isn't sticking together enough to form a firm crust. Taste the mixture for sweetness and add more stevia if desired.
Press Crust mixture into a pie pan or a spring form pan. Set Crust aside in the fridge or freezer.
To prepare Mousse: Combine avocados, raw cacao, vanilla, cinnamon, stevia and salt in a food processor or blender and blend until creamy. Scrape the sides occasionally. Be sure to blend really well to ensure that there are no remaining chunks of avocado. Taste for sweetness and flavor and adjust to your liking.
Spoon the Mousse over the Crust. Decorate the top with berries. Chill or freeze for at least 30 minutes. Serve immediately or store covered in refrigerator for up to a week. Enjoy!