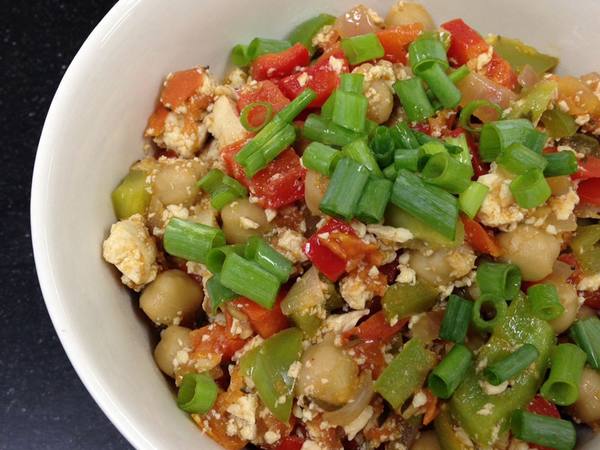 Vegan Sarciado
Sarciado, meaning "cooked with thick sauce", is a Filipino dish with strong Spanish influence. Enjoy this savory scramble as a topping for entrees or as a meal over rice.
Updated: Mon, 05/13/2019 - 9:00pm
Ingredients
3 Tablespoons vegan butter
1 medium onion, diced
3 cloves garlic, minced
1 teaspoon thyme
1 teaspoon tarragon
2 large tomatoes, diced
3 Tablespoons shoyu
1 teaspoon smoked paprika
1 Tablespoon vegan Worcestershire sauce
1 cup vegetable broth
1 box medium to firm tofu, drained and crumbled
1 can garbanzo beans
1 green bell pepper, diced
1 red bell pepper, diced
1 cup chopped green onions
Salt and pepper, to taste
Instructions
In a large skillet, heat butter over medium heat. Sauté onion, garlic, thyme, tarragon, and tomatoes until fragrant.
With the back of a spoon gently press down on tomatoes to release some of its juice. Stir in shoyu, smoked paprika, Worcestershire sauce, and vegetable broth.
Add crumbled tofu, garbanzo beans, and bell peppers. Stir to combine. Simmer until most of the liquid has evaporated. The sauce should still be slightly wet.
Remove from heat and stir in chopped green onions. Salt and pepper to taste. Serve and enjoy!