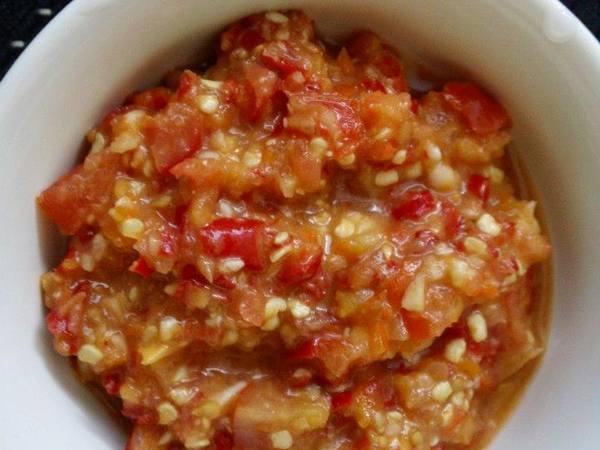 Indonesian Sambal
The Indonesian version of hot sauce pairs well with all types of food. If you don't like too much heat, you can mix into a peanut sauce for a milder flavor.
Updated: Sat, 04/14/2018 - 8:20am
Ingredients
20 small red chilies, stemmed and minced
1 cup minced fresh tomatoes
2-4 cloves minced garlic
2 Tablespoons peanut oil
2 Tablespoons palm sugar
1-2 Tablespoons apple cider vinegar
1 Tablespoon red miso
1 Tablespoon salt
Note: Always use care when handling fresh chilies as they can burn your skin. Use gloves when chopping and be sure not to touch your eyes, nose, or mouth after touching any part of the chilies.
Instructions
Grind chilies, tomatoes, and garlic in a food processor or mortar and pestle until thick and smooth.
Add in oil, sugar, vinegar, miso, and salt, stirring to combine. Sambal should be thick and creamy. Add more salt or sugar to taste.
Serve alongside fried tempeh, summer rolls, or mix into sauces. Stores for about a week in the fridge. Enjoy (carefully)!