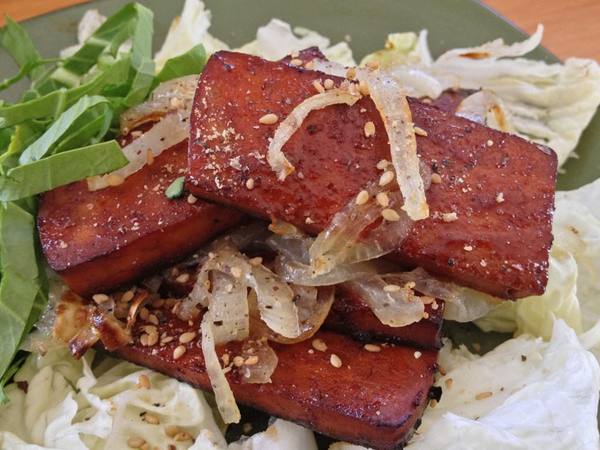 Baked Vietnamese-Style Barbecue Tofu
This hearty and flavorful tofu is a perfect companion to our Vegan Pho, or just served solo!
Updated: Mon, 05/13/2019 - 8:51pm
Ingredients
1 (14-ounce) block extra firm tofu, drained and pressed dry
¼ cup soy sauce
2-3 Tablespoons sugar, agave, or honey
1 Tablespoon rice wine vinegar
1-2 Tablespoons Vegan Fish Sauce, vegetarian hoisin sauce or mushroom soy sauce
½ cup nutritional yeast
1-3 cloves garlic, minced
½ cup chopped green onions, divided
1 fresh lemongrass stalk, chopped
Zest of 2 limes
1 onion, sliced thinly
Salt, to taste
1-2 Tablespoons mirin (optional)
Instructions
Slice tofu into 8-10 slabs and lay into a 9"x13" baking dish or rimmed baking sheet.
In a small bowl whisk remaining ingredients together, setting aside ¼ chopped green onions for garnish, and pour over tofu. Turn tofu over as needed to coat sauce evenly. Let marinate for 1 hour up to overnight in the refrigerator. If possible, flip over halfway through allotted time.
Preheat oven to 350º. Line a baking sheet with parchment paper.
Transfer tofu to baking sheet and bake for 20 minutes. Flip tofu and bake for 10 more minutes, until tofu is slightly crisp to the touch and marinade has been absorbed. Turn oven to broil setting and broil for 5 minutes. Remove from oven and set aside.
While tofu is baking, heat a couple Tablespoons of oil in a sauté pan over medium heat. Add in onions and salt generously. Allow onions to slowly sauté – stirring occasionally for 15-20 minutes or until onions have completely softened. Stir in mirin and sauté for another couple of minutes or until mirin has been absorbed. Turn off heat and set aside.
Transfer tofu to a serving platter and top with sauteed onions, chopped green onions, and sesame seeds. Enjoy with rice, rice noodles, or a green salad.