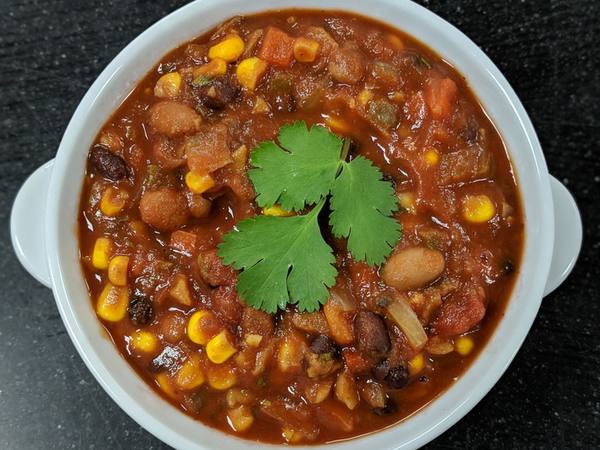 This is a comforting and hearty meal. The beans provide
a very good source of protein.

Ingredients
1 Tablespoon olive oil
1 medium onion, coarsely chopped
1 green or red bell pepper, diced
2 large cloves garlic, slivered
3½ cups cooked red kidney, black or pinto beans
(or 2 cans beans)
1 (14.5-ounce) can diced tomatoes
1½-2 teaspoons mild chili powder
¼ teaspoon salt
1½ cups fresh or frozen corn
⅓ cup fresh cilantro, chopped
Instructions
In a large saucepan, heat the oil. Sauté onion, bell pepper and garlic over medium heat, stirring frequently until lightly browned, 2-3 minutes.
Add the beans, tomatoes, chili powder and salt. Bring to a boil, reduce heat, simmer uncovered, stirring occasionally, for 7 minutes.
Stir in corn; continue cooking until corn is tender, about 1 minute.
Stir in cilantro, serve and enjoy!