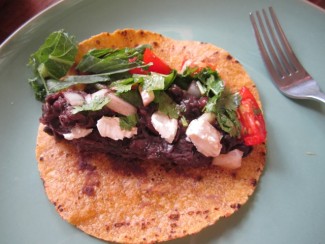 A vegetarian staple - hearty, comforting and delicious. Your patience in allowing your beans cook for a long time will be rewarded by very, very good black beans!
Ingredients
2 cups dried black beans
1/2 bunch of cilantro, roughly chopped
1/2 onion, diced
1 tomato, quartered
1 dried chipotle pepper (optional)
1/4 teaspoon coriander
Salt and pepper, to taste
10 corn tortillas
1/4 cup crumbled feta
Instructions
Soak the beans overnight. Drain and rinse well. For a quick soak, boil the beans in a large stock pot filled with water for 1 hour. Drain rinse well.
Place beans in a large stock pot and cover with plenty of water. Add in cilantro, tomato, onion and chipotle pepper. Bring to a rolling boil for 20 minutes.
Lower heat, cover and simmer on a low heat. The longer you can simmer the beans the more delicious they will be. Make sure that there is enough liquid in the pan and stir occasionally. Cook for at least 30 minutes up to a 1 hour. Taste beans occasionally.
When you are ready to eat take off the lid, turn up the heat and reduce off any unwanted liquid.
Season with coriander powder, salt and pepper.
In a dry skillet heat the tortillas. Flip once they are warm and soft - 10 or 20 seconds a side. Set them aside where they will keep warm. To serve place the black beans on a tortilla. Sprinkle with feta. Top with Pico de gallo. Eat!