Kelp Noodles with Red Pepper Sauce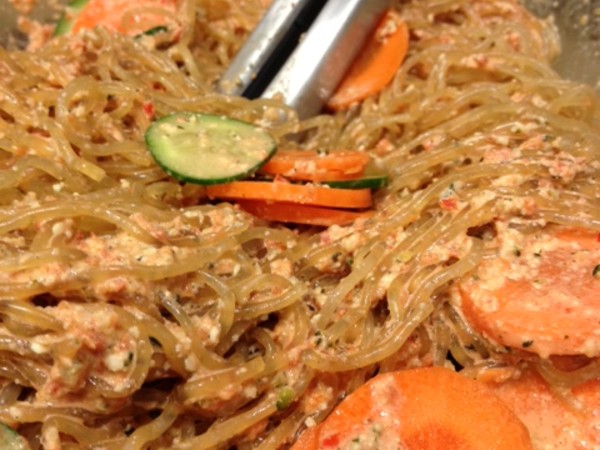 Kelp noodles are a low-fat pasta replacement, and can be used in raw meals like this one.

Ingredients
1 (12 ounce) package kelp noodles
2 cups chopped red bell pepper
1¼ cups hemp seeds
¼ cup nutritional yeast
¼ cup fresh lemon juice
1 Tablespoon nama shoyu or tamari
¼ cup water + more if needed
2 cups fresh mixed vegetables such as sliced
carrots, cucumber, greens, etc.
Instructions
Add kelp noodles to a large bowl and cover with very warm water. Let stand 10 minutes, then drain.
Add pepper, hemp seeds, nutritional yeast, juice, and shoyu to a food processor and blend until smooth. Add water if needed for a thinner consistency.
In a large bowl toss together noodles, sauce, and mixed veggies. Serve immediately and enjoy!