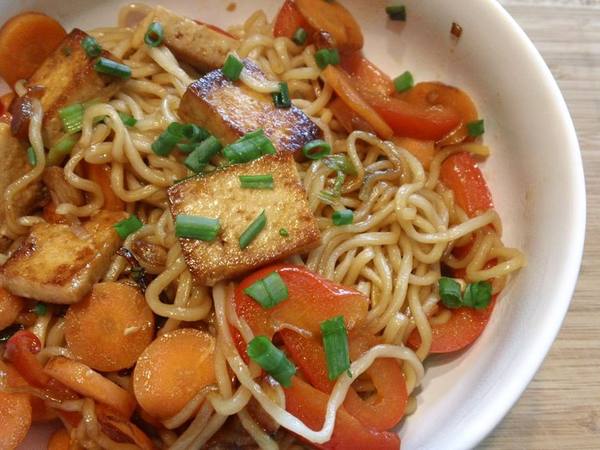 Mie Goreng (Fried Noodles)
Mie Goreng is a staple in Indonesia. Easy, filling, and cheap, it can be found at every food stand and restaurant. The flavor packet from the ramen can be used as a stock for soups, noodles or grains, or can make a quick bowl of broth. No need to waste!
Yield:
2 large or 4 small servings
Updated: Mon, 05/13/2019 - 9:05pm
Ingredients
¼ cup honey or agave nectar

⅓ cup soy sauce

2-3 Tablespoons peanut oil, divided

4-5 cloves garlic, chopped

1 cup cubed tofu or tempeh

2 (2-ounce) packages ramen or udon noodles

1 cup sliced carrots

1 cup sliced red pepper

1 cup chopped green onions
Instructions
In a small bowl whisk together honey (or agave nectar) and soy sauce. Set aside.

Heat 2 Tablespoons oil in a heavy skillet on medium heat. Add garlic and cook until browned. Carefully remove garlic from oil and add to soy sauce mixture.

Add tofu or tempeh to the hot oil, and grill until browned on each side, about 5-10 minutes.

Meanwhile, cook noodles according to package instructions (do not use flavor packet). Drain well and set aside.

When tofu/tempeh is browned, add remaining oil and warm over medium heat. Add carrots, red pepper, and green onions and cook until vegetables are soft.

Add cooked noodles to vegetables and drizzle with soy sauce mixture. Stir until well coated. Continue to cook until noodles become sticky and slightly burned. Remove from heat and enjoy immediately!