Pesto Kelp Noodle Primavera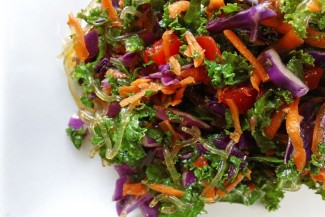 Pesto Kelp Noodle Primavera
Ingredients
Kelp Primavera
1 (12-ounce) package kelp noodles
2 cups shredded cabbage
2 cups shredded kale
½ cup chopped black olives
½ cup diced red bell pepper
½ cup shredded carrots
Fresh Pesto
½ cup walnuts
2 cups fresh basil
¼ cup chopped sundried tomatoes
2 cloves garlic
¼ cup olive oil
Juice of 1 lemon
3 Tablespoons nutritional yeast
Salt and pepper to taste
Water, as needed
Instructions
Rinse kelp noodles in warm water and place into a large bowl. Add cabbage, kale, black olives, pepper and carrots and toss to combine.
In a food processor, blend all Pesto ingredients until smooth, adding a few teaspoons of water as needed for a smooth texture.
Pour Pesto over noodles and vegetables and toss to combine. Serve and enjoy!