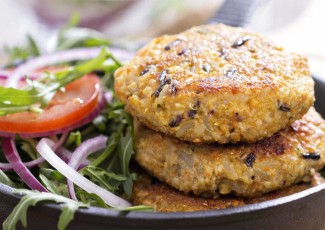 Recipe for Raw Quinoa Burgers from Down to Earth Organic and Natural.
Ingredients
1 cup sun dried tomatoes
5-6 medium carrots
½ cup almonds
1 cup sprouted quinoa
1 bell pepper, diced
1 Portabella mushroom, finely diced
2 Tablespoons dried basil
2 Tablespoons raw tahini
¼ teaspoon cayenne
¼ teaspoon sea salt
Special Materials: Dehydrator
Instructions
Place sun dried tomatoes in a bowl and cover them with water. Hydrate them for 1 hour or until soft. Dry and chop coarsely. Set aside.
Using a juicer, juice carrots until it yields about 3 cups of pulp. Place pulp in a large mixing bowl, and you may enjoy a refreshing cup of carrot juice.
Place almonds in a food processor and blend until almonds have the fine consistency of flour.
Add almond flour and remaining ingredients to the carrot pulp. Using your hands mix until well combined.
Form burgers to about 2 ½" in diameter.
Place burger in a dehydrator at 105° for 4 hours.
Serve your burgers in between lettuce, topped with your favorite raw toppings. Enjoy!