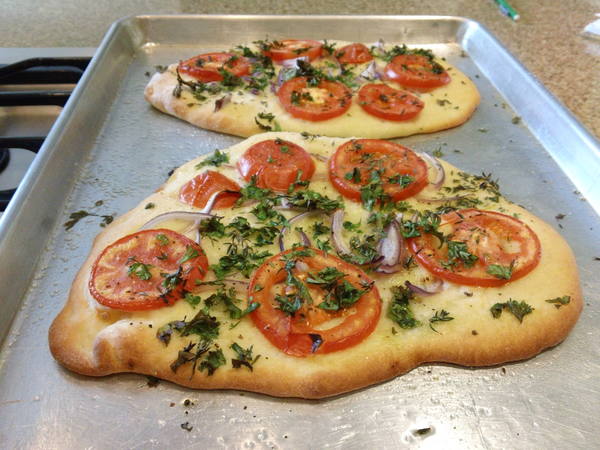 Rustic Tomato Flatbreads
Choose flavorful, fresh herbs and ripe tomatoes to top these simple flatbreads, or use a marinara sauce and toppings for a quick pizza.
Yield:
4 (eight-inch) Flatbreads
Updated: Tue, 04/03/2018 - 9:00pm
Ingredients
Flatbread Dough
1 cup very warm water
1 package active dry yeast
2 Tablespoons olive oil + extra for bowl and pans
2 teaspoons agave nectar
1 teaspoon salt
3-3½ cups bread flour or all-purpose flour
Toppings
4 large ripe tomatoes
1 cup fresh sliced basil
½ cup very thinly sliced red onions
¼ cup fresh herbs (thyme, parsley, sage, etc.)
Olive oil, salt, and pepper to taste
Instructions
Combine the water, yeast, olive oil, agave, and salt in a large bowl. Swirl to combine, and let stand five minutes to proof. Stir in 2½ cups flour and stir until a 'shaggy' dough forms.
Turn out dough onto a floured surface and knead until smooth and stretchy, adding more flour as needed- you may use up to a cup of extra flour. Knead for eight minutes, or until dough is totally smooth.
Lightly oil a large glass bowl. Transfer the dough to bowl and cover with a kitchen towel. Let dough rise in a warm area (ie: in the oven with the lights on) for one hour. It should nearly double in size.
When the dough has risen, turn out onto a floured surface. Press dough slightly to form a smaller ball, and divide it into four parts. Cover dough balls with a towel and let rest for 15 minutes.
Preheat oven to 450º and lightly grease two cookie sheets with olive oil.
Roll out the individual dough balls into ovals or circles. Brush generously with olive oil, then top with tomatoes, basil, herbs, and onions, as you like. Sprinkle generously with salt and pepper, and drizzle a bit more olive oil on top of tomatoes. Bake 15-20 minutes, or until the crust is golden brown. Remove from oven and let stand five minutes before eating. Enjoy!