Seitan with Maple-Balsamic Glaze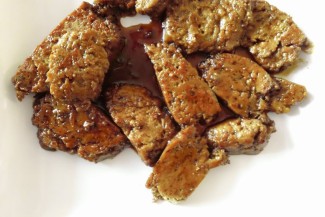 Seitan is a wheat-based meat replacement that is high in protein. This sweet and tangy glaze makes it super flavorful!
Ingredients
Seitan
1½ cups wheat gluten flour
¼ cup nutritional yeast
1 teaspoon each black pepper, garlic flakes, and onion powder
1¼ cups cold water
¼ cup Bragg liquid aminos or soy sauce + ¼ cup extra
10 cups water
High-heat oil for grilling
Maple-Balsamic Glaze
½ cup apple juice
½ cup maple syrup
¼ cup balsamic vinegar
1 Tablespoon soy sauce
Salt and black pepper to taste
Instructions
Mix gluten flour, nutritional yeast, and herbs in a large bowl.
Add very cold water and ¼ cup liquid aminos to flour mix. Stir well using a spatula and your hands if necessary. The dough will become very spongy and elastic. Knead into a small loaf, and let rest five minutes.
Divide dough into three equal pieces, drain off excess liquid (if needed).
Add cold water to a large stockpot with remaining ¼ cup liquid aminos. Gently drop dough into cold broth. Bring broth to a rapid simmer (do not boil), then reduce heat to low. Keep at a low simmer for one hour, stirring a few times to keep seitan from sticking to bottom. Let seitan cool completely in broth, then slice into ½" slices.
Meanwhile, make the Maple Glaze: Whisk together juice, maple syrup, vinegar and soy sauce until smooth.
In a skillet, bring Maple Glaze to a low simmer. Let cook for 20 minutes, stirring often, until mixture reduces by half. Stir in salt and pepper if using.
In another large skillet, heat 1-2 Tablespoons high heat oil over medium heat. Grill seitan until lightly browned on each side, about 10 minutes. Drizzle with Maple Glaze and cook until warmed through. Remove from pan and set aside. Continue with remaining seitan. Serve with noodles, grains, potatoes, or on a sandwich! Enjoy!