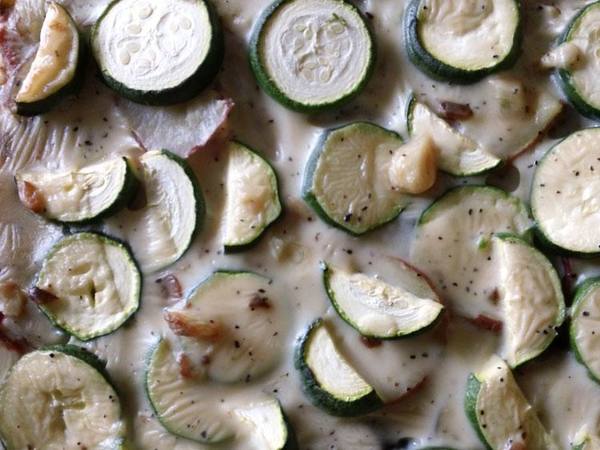 Vegan Mousakka (Eggplant Casserole)
Mousakka, a traditional Greek dish, features layers of vegetables, a spicy red sauce, and a creamy white sauce.
Updated: Fri, 05/04/2018 - 7:40am
Ingredients
Tofu Feta
3 Tablespoons white miso
3 Tablespoons tahini
3 Tablespoons lemon juice
½ teaspoon fine sea salt
1 (12-14-ounce) block extra firm tofu
White Sauce
¼ cup vegan margarine
4 cloves garlic, minced
2 cups unsweetened soymilk
1 Tablespoon potato starch
1 teaspoon garlic powder
Salt and pepper to taste
Spicy Tomato Sauce
2 Tablespoons olive oil
1 cup chopped onion
2 cloves garlic, minced
1 (14-ounce) can crushed tomatoes
⅓ cup vegetable broth
1 Tablespoon balsamic vinegar
1 Tablespoon oregano
1 teaspoon each crushed red pepper and black pepper
Vegetables
1 medium-sized round eggplant, sliced into ½" rounds
3 medium red potatoes, sliced into ½" rounds
2 medium zucchini, sliced into ¼" rounds
Instructions
To make the Tofu Feta: Whisk together miso, tahini, lemon, and salt. Crumble tofu into sauce and toss to combine. Let marinate half hour or more.
To make the White Sauce: In a medium-sized saucepan, melt margarine. Add garlic and cook until just browned, about 5 minutes.
In another bowl whisk together soymilk, potato starch, garlic powder, salt and pepper. Lower heat and slowly add soymilk mixture to saucepan. Stir well and cook until thickened, about 5 minutes. Remove from pan.
To make the Tomato Sauce: Using the same pan, heat olive oil over medium heat. Add onions and garlic and cook until very soft, about 10 minutes. Add tomatoes, broth, vinegar, oregano and red and black pepper.
To prepare the Vegetables: Preheat oven to 400º. Layer eggplant onto a lined baking sheet and sprinkle generously with salt; let rest 30 minutes. Pat dry with towels. Bake for 15 minutes.
Layer potatoes onto another lined baking sheet and bake for 15 minutes. Potatoes should be very soft. Reduce heat to 350º.
To assemble: Layer half the vegetables onto bottom of 9x13 baking dish in alternating layers. Cover with Tofu Feta and then pour Tomato Sauce on top. Make another layer with remaining vegetables and pour White Sauce on top. Bake at 350º for 20-30 minutes, or until zucchini is very soft. Let cool before slicing. Enjoy!