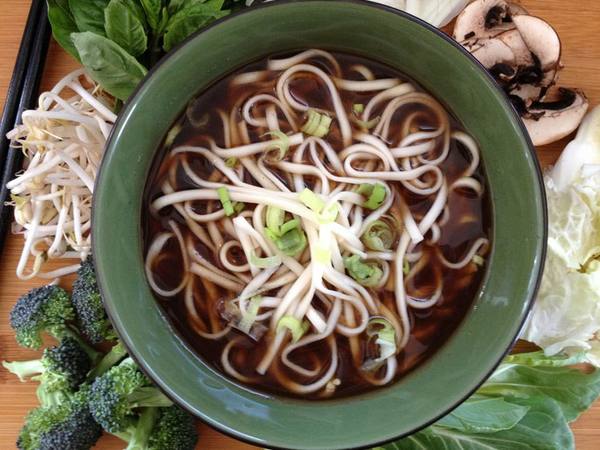 Vegetarian Pho
Revitalizing, hearty, and capable of hundreds of different variations, it's easy to see why Vietnam's famous noodle dish endears the masses. Many Vietnamese restaurants offer a vegetarian pho but it is often offered only in one gigantic size and can be pricey compared to their meaty counterparts. Homemade pho does need a commitment of time but the flavor and ease of the dish will prove to be worthwhile. A big batch of the broth can be made and refrigerated for up to a week or frozen for up to a month. Cook the noodles and prepare the garnishes only when ready to serve.
Updated: Mon, 05/13/2019 - 8:51pm
Ingredients
Broth
1-2 large yellow onions, peeled and halved
3-4 garlic cloves, minced
4" piece fresh ginger, peeled as much as possible and halved
2-3 cinnamon sticks
2-3 star anise
2-3 whole cloves
1-2 teaspoons coriander seeds
4 cups mushroom stock or low sodium vegetable stock
2 cups water
5" piece dried kombu or wakame seaweed
2-4 dried shiitake mushrooms
¼ cup Vegan Fish Sauce, vegetarian stir fry sauce, mushroom soy sauce or soy sauce
4-5 carrots, peeled and roughly chopped
Noodles
6-9 ounces rice noodles, somen noodles, udon noodles or thin pasta noodles
Suggested Toppings/Garnish
Sliced baked or fried tofu
Sliced fresh mushrooms
Thinly sliced onions and/or green onions
Sliced chili pepper
Lemon or lime wedges
Mung bean sprouts
Fresh Thai basil leaves and/or cilantro leaves
Chopped bok choy, napa cabbage and/or broccoli
Vegetarian hoisin sauce and/or Sriracha®
Instructions
To prepare the Broth, heat a large pot over medium-high heat. Add the onion, garlic, ginger, cinnamon sticks, star anise, cloves and coriander. Saute until the vegetables begin to char - about 5-7 minutes.

Stir in the reminaing Broth ingredients and bring to a boil over high heat. Turn the heat down to medium-low, cover, and simmer for about 25 minutes.(Alternatively you can add the broth to a slow cooker and cook on low for 8-12 hours.) 

Strain borth into a clean pot and discard the solids. Taste the broth and add salt if necessary. Keep warm over low heat. 

Cook noodles according to package directions and drain. Divide noodles into 4-5 serving bowls. 

Pour warm broth over the noodles in each bowl. 

Set a large platter or several plates with desired toppings. This will let everyone customize their bowl. Serve and enjoy!