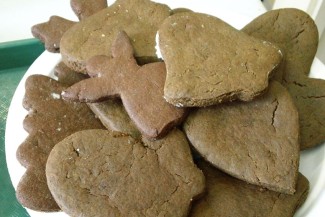 Gingerbread Cookie recipe from Down to Earth Organic and Natural.
Yield
Approximately 2 dozen, depending on size of cookie cutters.
Ingredients
3 cups unbleached all-purpose flour
1 teaspoon baking soda
2 teaspoons ground ginger
2 teaspoons ground cinnamon
½ teaspoon ground cloves
½ teaspoon ground nutmeg
½ cup butter, softened
½ cup packed brown sugar
½ cup molasses
2 Tablespoons orange zest
Special Materials: cookie cutters
Instructions
In a medium bowl, combine flour, baking soda, ginger, cinnamon, cloves and nutmeg. Set aside.
In a large bowl, cream together butter and brown sugar.
Beat in molasses and orange zest.
Add dry ingredients to wet and mix until combined.
Separate the dough in half and wrap in plastic wrap. Refrigerate 2½ hours or up to overnight.
Preheat oven to 350°.
Remove one half of dough from refrigerator and let sit for a couple minutes.
Place a 1½ foot long piece of parchment paper on a clean dry surface. Put dough on parchment paper. Using a lightly floured rolling pin, roll out the dough.
For a crispier cookie: roll dough to ⅛" thick
For a softer cookie: roll to ½" thick
Cut out dough with cookie cutters and place on a ungreased cookie sheet 1" apart.
Bake 8-10 minutes.
Let cool on a wire rack.
Repeat with remaining half of dough. Enjoy!