Gluten-Free Black Bean Burgers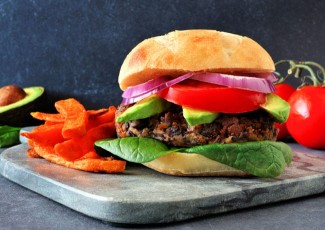 These hearty, filling black bean burgers are delicious and simple. Make a double batch and freeze some for later!
Yield
10-12 Veggie Burgers
Ingredients
1½ cups chopped fresh mushrooms (including stems)
½ cup walnuts
1½ cups cooked black beans
¾ cup rolled oats
1¼ cups cooked quinoa
½ cup shredded carrots
1 teaspoon sea salt
1 teaspoon black pepper
1 teaspoon basil
1 teaspoon thyme
2 Tablespoons tahini
1 Tablespoon vegan Worcestershire sauce
½ teaspoon liquid smoke (optional)
Instructions
Preheat your oven to 350º and line a large baking sheet with parchment paper.
Pulse mushrooms in food processor until finely minced. Remove and set aside.
Pulse walnuts in food processor until finely minced. Add mushrooms, beans, oats, quinoa, carrots and spices. Pulse to combine, then add in tahini, Worcestershire sauce and liquid smoke (if using) and pulse again, until any big chunks are broken.
Pour out bean mixture into a large bowl.
Measure ¼ cup of mixture and form into a patty with your hands. Layer onto baking sheet, and form about 10-12 patties.
Bake for 30 minutes. Flip all patties, then bake for another 5-10 minutes, until center is firm to the touch and browned on the outside.
Serve with your favorite buns and burger accompaniments. These burgers can also be frozen; let cool completely and freeze in an airtight container. Enjoy!