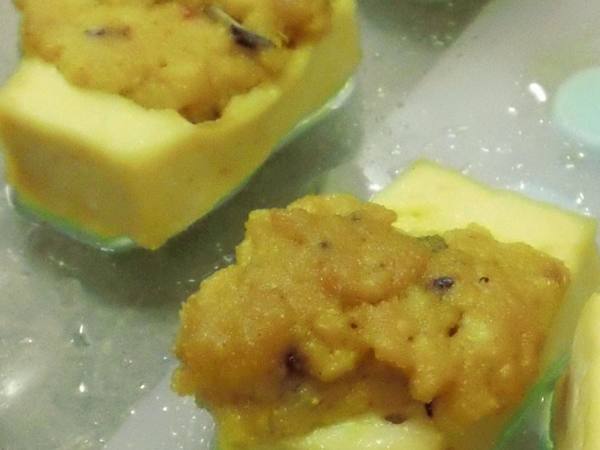 Vegan Deviled Eggs
This tongue-in-cheek appetizer makes for a fun party food and showcases the wide range of vegan cooking. Recipe adapted from vegan blog: Meet the Shannons
Updated: Tue, 05/15/2018 - 7:52am
Ingredients
Olive oil
1 (14-ounce) package extra-firm tofu, drained and pressed dry
½ cup vegan mayonnaise
3 Tablespoons nutritional yeast
1 Tablespoon Dijon mustard
1 Tablespoon onion powder
1 Tablespoon garlic powder
1 Tablespoon Spike seasoning
½ teaspoon turmeric
Paprika, to garnish
½ cup finely chopped green onions
Instructions
Preheat oven to 350°. Coat a large baking dish with olive oil.
Cut tofu in half lengthwise. Keeping halves stacked, cut 3 equal slices lengthwise. Rotate tofu and make 2 equal slices across. Yields 18 bite-sized squares.
Using a ¼ teaspoon measuring spoon, carefully scoop out the middle of each square, taking care not to scoop too deep. Place scooped tofu into a bowl.
To make "yolk": Crumble scooped tofu with hands. Add all remaining ingredients except paprika and green onions. Stir until well combined and mixture is mustard yellow.
Scoop "yolk" into cups of "eggs".
Place "eggs" in baking dish and bake for 15-20 minutes or until lightly browned. Remove from oven and cool.
Dust each "egg" with paprika and garnish with green onions. Serve and enjoy!