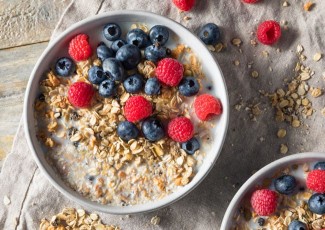 This tasty breakfast staple will help detoxify and nourish the body.

Ingredients
2 cups rolled oats
1 cup sliced almonds
1 cup pumpkin seeds
1 cup sunflower seeds
½ cup almond milk
2 cup dried fruit of choice
2 Tablespoons coconut flakes
1 Tablespoon wheat germ
1-2 teaspoons cinnamon
½ teaspoon ground ginger
½ teaspoon nutmeg
Milk, non-dairy milk, yogurt or chilled soft silken tofu
Fresh fruit (optional)
Instructions
Soak oats, almonds, and seeds in almond milk for at least 15 minutes up to a couple of hours.
When ready to serve, stir in dried fruit, coconut flakes, wheat germ and spices.
Serve with milk, non-dairy yogurt or chilled soft silken tofu and topped with fresh fruit. Enjoy!