Lilikoi Cheesecake Tarts w/ Fresh Fruit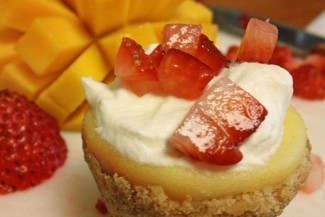 Lilikoi Cheesecake Tart Recipe from Down to Earth Organic and Natural
Ingredients
Crust:
⅓ cup butter, softened
¼ cup sugar
1 teaspoon vanilla
1¼ cup unbleached flour
1¼ teaspoon baking powder
Filling:
12 ounces cream cheese, softened
½ cup sugar
⅔ cup heavy cream
½ cup fresh lilikoi juice
1 teaspoon vanilla
2 Tablespoons corn starch
Toppings:
Whipped cream
¾ cup finely diced fresh strawberries
¾ cup finely diced fresh mango
Instructions
Preheat oven to 350°. Grease 24-30 individual tart pans.
Using an electric mixer, cream butter and sugar. Add vanilla and mix until smooth.
Sift in flour and baking powder.
Fold with a spatula until it resembles coarse meal.
Scoop 1 Tablespoon of mixture into each greased tart pan.
Press mixture into bottom and sides of pan. Set aside.
In a food processor, combine cream cheese, sugar, heavy cream, lilikoi juice, vanilla and corn starch. Blend until smooth.
Scoop ⅛ cup mixture into each crust.
Bake for 25 minutes at 350°.
Let cool completely.
Top with whipped cream, strawberries and mango. Enjoy!