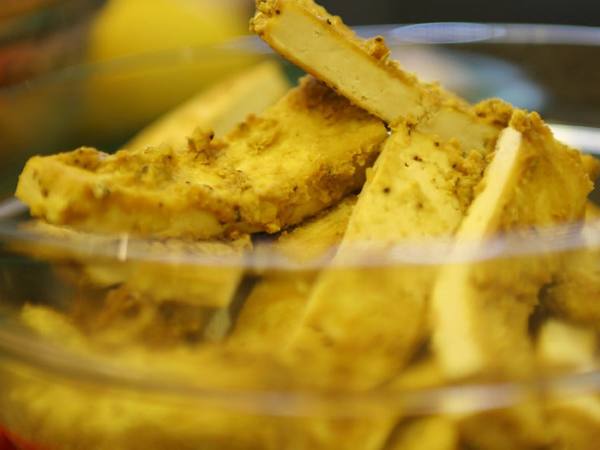 Noochy Tofu
'Nooch' is a nickname for nutritional yeast, a vegan condiment/supplement. Nutritional yeast is a flaked, yellow powder that is high in protein and B vitamins and tastes delicious on EVERYTHING!
Updated: Mon, 04/16/2018 - 8:35am
Ingredients
10 ounces firm tofu, drained and pressed dry
2 Tablespoons olive oil
½ cup nutritional yeast flakes
1 teaspoon dried garlic flakes
½ teaspoon black pepper
1-2 teaspoons soy sauce
1-2 Tablespoons water
Instructions
Slice tofu into ½" thick slices.
Heat oil in a pan over medium heat until warm. Add tofu and grill until lightly browned, about 10 minutes on each side.
While tofu is cooking, mix nutritional yeast, garlic and pepper in a medium bowl. Set aside.
When tofu is mostly browned, turn heat to low and add nutritional yeast mix. Toss to combine.
Stir in soy sauce and water gradually until flakes have turned into a creamy sauce.
Taste and add more nooch, soy sauce or water if desired. Enjoy immediately or can be stored in an air-tight container for a few days in the refrigerator.