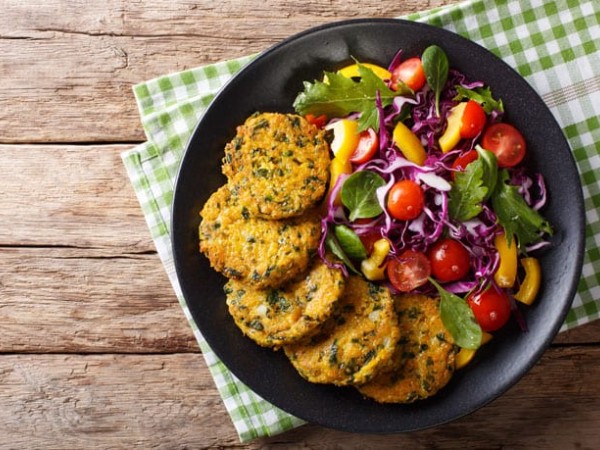 Quinoa & White Bean Patties
Quinoa & White Bean Patties Recipe from Down to Earth Organic and Natural
Updated: Tue, 04/30/2019 - 11:22pm
Ingredients
3 Tablespoons safflower oil + 3 Tablespoons for frying
½ cup diced onion
½ cup diced kale
2 diced garlic cloves
½ teaspoon red pepper flakes
1 teaspoon dried basil
1 teaspoon dried parsley
Salt and pepper to taste
1 Tablespoon liquid aminos
1 (15-ounce) can Cannellini beans
2 cups cooked quinoa
¼ cup cornmeal
¼ cup breadcrumbs
2 Tablespoons vegan Worcestershire sauce
Instructions
Heat 3 Tablespoons oil in a medium pan. Add onions and sauté 1 minute.
Add kale, garlic, red pepper flakes, dried basil, dried parsley, salt, pepper and liquid aminos, and cook until soft.
Drain and rinse beans. Place in a large mixing bowl and mash with a potato masher, fork, or with your hands.
Add cooked quinoa, cornmeal, bread crumbs and Worcestershire sauce to beans and mix well.
Stir onion mixture into beans and form into 3½" balls. Flatten into ¼" thick burgers.
Heat 3 Tablespoons oil in a large skillet. Prepare all patties beforehand. Fry each patty 5 minutes on each side or until browned. Serve on your favorite bread or pita with Green Goddess dressing. Enjoy!