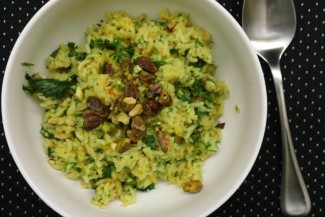 Green rice is a traditional Persian dish made with dried fruits, nuts, and lots of fresh herbs.
Ingredients
2 cups Basmati rice
3 cups filtered water
½ teaspoon salt
1 teaspoon saffron threads
2 Tablespoons warm water
3 Tablespoons olive oil
2 leeks (green part removed), chopped
½ cup minced red onion
2 teaspoons fresh lime zest
1 cup minced flat-leaf parsley
1 cup chopped fresh cilantro
½ cup minced fresh dill
1 cup raisins or currants
1 cup shelled, chopped, and toasted pistachios or walnuts
Instructions
Rinse rice in cool water until water runs clear. Set rice aside.
In a large stockpot, season 3 cups water with salt and bring to a boil.
Meanwhile in a small bowl, pour 2 Tablespoons of warm water over saffron. Set aside.
Heat olive oil in a large saucepan over medium heat. Add leeks and onions and sauté for five minutes. Add rice, saffron/water mixture, and lime zest and stir to coat. Cook for two minutes, stirring constantly. Add boiling water to rice. Lower heat, cover, and simmer for 15 minutes.
Let rice cool five minutes. Stir in parsley, cilantro, dill, raisins and nuts and serve immediately. Enjoy!