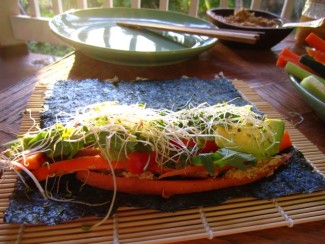 A beautiful, simple and satisfying raw meal.
Ingredients
2 carrots
1 bell pepper
1 small cucumber
1 avocado
Herbs - parsley, dill, cilantro, arugula (optional)
Greens – romaine, baby spinach, micro greens (optional)
1 cup of sprouts
Nut patē (see recipe: Simple Sunflower Seed Patē)
6 sheets of raw nori
Recommended Materials:
Instructions
Slice the carrot, bell pepper, cucumber and avocado into long thin strips. Finely chop the herbs.
Place a sheet of nori onto the bamboo mat. Spread the nut pate in a line parallel to the long edge of the nori, about an inch in.
Lay a few vegetables strips, avocado, herbs, greens and sprouts along the nut pate.
Roll it up firmly, making a tight roll, leaving an inch wide strip of nori remaining. Wet the remaining strip of nori and finish rolling it up. Let the roll rest on the wet strip. The nori will seal together.
Cut it into bite-sized rounds with a sharp knife on a flat dry chopping board.
Plate and serve. Serving suggestions include pickled ginger, wasabi and tamari. Enjoy!