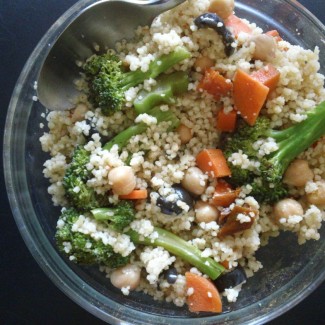 Couscous, tiny pieces of semolina pasta, cooks in minutes and makes for a great lunch or dinner when paired with veggies and this flavorful dressing. Buy couscous in bulk or in grocery.
Ingredients
4 cups water
1 cup couscous
2 cups finely chopped broccoli
1 cup diced carrots
1 cup cooked chickpeas (garbanzo beans)
1 cup sliced olives (any variety)
½ cup chopped sundried tomatoes (soaked one hour if needed)
1 cup fresh chopped greens (spinach, kale, etc.)
Mustard Dressing
¼ cup olive oil
2-3 Tablespoons prepared Dijon mustard
1 Tablespoon apple cider vinegar
1 Tablespoon honey
1 Tablespoon mixed Italian herbs
Instructions
Bring 4 cups water to a boil. Add couscous to a large glass bowl. Pour 2 cups boiling water on top of couscous and stir. Cover and let stand 5-10 minutes, until all liquid is absorbed. Fluff with a fork.
Place broccoli and carrots into a large glass bowl. Pour remaining 2 cups boiling water over broccoli and carrots. Cover, and let stand five minutes to blanch slightly, then drain and toss with couscous. Add chickpeas, olives and sundried tomatoes.
Whisk together Dressing ingredients and then pour over couscous mixture. Toss to combine. Serve immediately or save leftovers for up to three days. Enjoy!